Note: If you're looking for information about the author of this blog (Ed Pas), check the Info page.
It's a good thing I'm living so far from Saskatoon, otherwise I'd risk being teased incessantly by relatives. Still, this story is too entertaining to not share.
The other day I got the following email from a relative:
Message Subject: Useful web tool for quick information

A very useful web search tool – rather than getting a long list of web sites that contain your key search words – this one focuses on providing an direct response to your key words search with 1 page of information, or definition, etc. – fast way to get key information from web.

Check it out – there is information on what it does and a video clip demonstration on their web site. Also it is a free download if you want to add as tool inside your search engine. http://www.answers.com/
Being an internet search junkie, I followed the link. I did a few searches, and found reasonable answers to a number of simple queries. Many of the answers referenced Wikipedia, which I prefer to search directly rather than going through a meta search site like answers.com.
In any case, my ego quickly got the better of me and I decided to find out if answers.com knew me. I wasn't expecting much, considering I'm not mentioned anywhere on Wikipedia, let alone meriting my own entry. But I wasn't expecting the response I got. Look closely at the suggestion:
Lia found this quite entertaining. I decided to see what the site had to say about her. I was hoping for something dramatic. Or absurd. Still, this seemed fitting: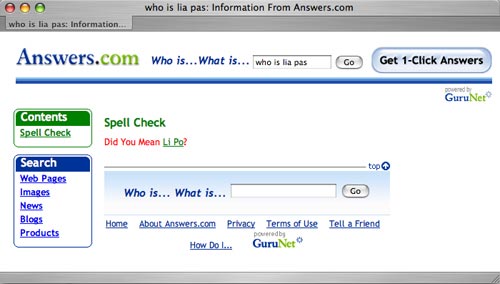 I'm sure you can draw your own conclusions. If you want to search for yourself (pun intended), try this link. Answers.com looks useful, and if you've got a linguistically imprecise name, it's good for a few laughs. Especially for fans of Hong Kong action movies. That last sentence will make more sense if you click the link.