At the beginning of March, Carly and Margaret—friends from Toronto—were in town for a short visit. We only had one afternoon together but we had a fabulous time, enjoying okonomiyaki (お好み焼き, a kind of pancake with all sorts of savory stuff mixed into the batter), ginger-ale flavoured Halls cough drops, and the "balmy" 6°C-with-snow-flurries weather. Domo-kun was witness to it all. Unfortunately we weren't able to find any of the seasonal passionfruit flavoured kit-kat bars. Maybe next time.
We took them to Kokura Castle, which is a replica built from concrete in 1959. The castle is quite picturesque and boasts one of the largest paper-doll dioramas in Japan. The diorama is a model of a Kokura as a traditional Japanese castle town, complete with townsfolk and markets, feudal lords, stray dogs, Christian missionaries, ninjas, and an assortment of other nefarious characters. Kokura being a coastal town, the diorama even has people catching blowfish in the Kanmon Strait.
Here's a photo of the castle:
To the right of the castle, but not in the picture, is a giant shopping mall and entertainment complex called Riverwalk. There's a post in the archives all about Riverwalk if you're curious about postmodern architecture in contemporary Japan. Said post includes at least one photo showing the castle and Riverwalk together.
Like every other observation deck in Japan, the one on the top floor of Kokura Castle has coin-operated binoculars and a corner full of vending machines—ice cream, souvenirs, and hot and cold drinks. There were copies of this sign posted everywhere in the lounge. Sorry for the blurriness but my hand wasn't very steady and the shots I took with the flash look even worse. It must've been the vertigo.
I really like the way this guy is drawn. Sort of an Edo-period version of Wimpy.
Judging from the sign, eating and drinking in the lounge are ok, as is causing a terrible racket with the machine that stamps your name into a souvenir coin. At least, those activities aren't expressly forbidden. But watch that you don't get caught even thinking about blowing smoke rings.
Samurai Wimpy puts in another appearance in this sign that was attached to a service door:
I think the sign was trying to stop the fashion police from interrupting the meeting pictured below.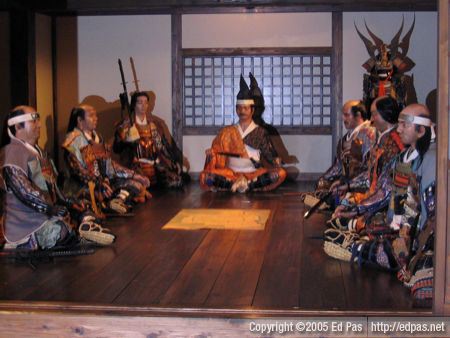 Carly and I had the pleasure of watching a shadow-puppet style re-enactment of a meeting at the castle. It was a three-minute performance with the silhouettes of a group of samurai projected onto the paper door in front of us. Carly couldn't understand the all-Japanese dialogue, and I only caught about a tenth of it but I attempted to interpret it for Carly. At the end of the shadow play, the doors opened to reveal the scene pictured above.
Who are these guys and what do they look so serious about? They're the samurai style-enforcement posse, deciding Kokura's fashion fate for 1705. Their decree? Stripes, flower prints, plaid, and patterns. On different fabrics, layered together. And colours that would make a 21st-century girly man proud. Don't be caught without at least one pair of billowy skirt-pants, either. Ninjas are an appropriate fashion accessory as long as they're neither seen nor heard.
As for hair, black is the new black, and anything but bare skin on the forehead is so last century. If you don't have this year's über mullet—long in the back and none in the front—you might as well just keep to the ricefields or stay in the back room making natto (納豆) with your hunchbacked grandma. A white headband makes a nice accessory. Those suffering from a lack of male pattern baldness and without the dexterity or financial means to outsource their anterior head-shaving are allowed to cover up with tall pointy hats.