Today's Japan field report is a fashion mini-report about shoes. I know that some of you are interested in Japanese fashion, and some love shoes. This was originally going to be heavy on photos and light on commentary but I seem to have found a lot to say about a subject I don't know much about. Even so, those of you not interested in footwear might want to skip this one.
This afternoon Lia and I went to Kokura to do some errands. On a whim, we decided to spend some time exploring a fashion mall called "Laforet Harajuku." Harajuku is an area of Tokyo that is known as a convergence point for the newest in Japanese street fashion. I think the mall is attempting to attract people using an aura of big-city fashion cachet.
We only managed to get through two floors of the place before we were overcome by the sensory overload. I only took photos in two of the many establishments selling footwear. The following pictures are from a place called Fin, where I put together enough broken Japanese to convince the shop girl that it was vitally important for her to let me take photos so I could send them to a shoe-loving friend in Canada. Shoe loving friend, you know who you are.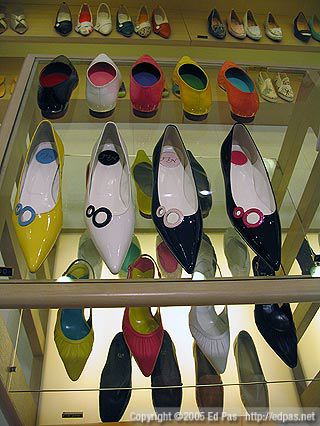 And now, an interlude so that I can talk about the name of this shop, and some of the other store names at Laforet. In the case of Fin, I believe they intend the French word, meaning end rather than the English word describing fish parts. I think the Japanese love the French language. In addition to the name of the mall Laforet, meaning the forest, there were olive des olive, pas à pas, and as know as de base. On second thought, looking at these last three examples, I wonder if perhaps the shop names are a new form of stripped down multilingual haiku. Take a word, put another word after it, and then repeat the first word. Trailing text of any length, from any language, with or without semantic meaning, is optional.
Here's my attempt at this new ABA+C poetry form: cochon du cochon mais pas trop des lumieres.
And another: elbow mon elbow how sweet les chansons des oiseaux.
Shoe boutique Fin is quite small—perhaps 20 by 15 feet and the displays were well spaced. It wasn't crowded like Bonita (see below) but it didn't look empty. I'd guess that there were a couple of hundred shoes on display—singly, not in pairs—but I don't think I saw two shoes that looked the same. There were different coloured versions of each basic design, but each shoe was unique.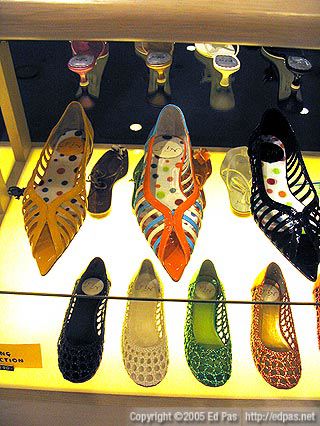 This group were in the ¥10,000 range. Thats about 120 Canadian dollars per pair.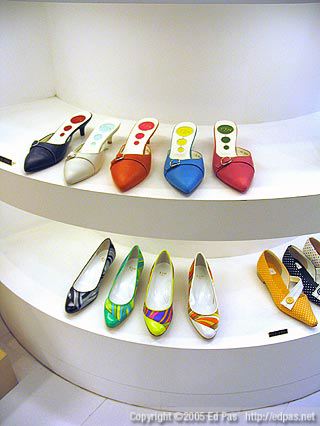 These ones are slightly more expensive at ¥12,390 (C$150.00).
Up one floor and around the corner is a store called Bonita which, like Fin, is devoted to selling nothing but shoes. They have a slightly different approach to stock management. I think their entire inventory is on the sales floor. Their prices are also much more affordable. I didn't see a pair that was more than ¥10,000.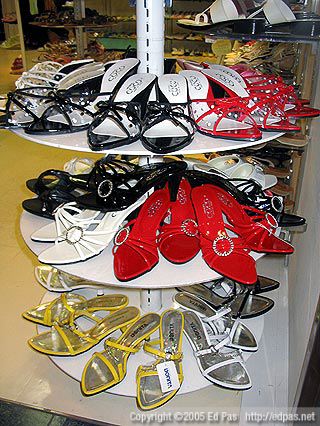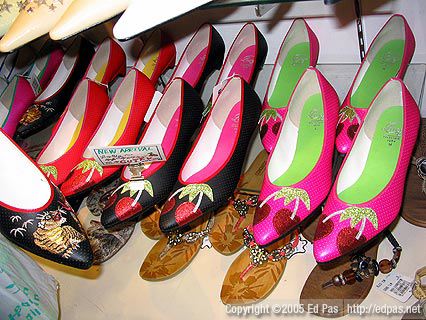 This display is really hard on the eyes. It's a bit difficult to see the shoe that Lia is holding up for the camera because there is so much going on behind it. The sole has a photo collage of sorts on it, and the shoe's upper is made of clear plastic. On the second shelf from the top, there are more examples, some with translucent, tinted uppers.
The visual overload is par for the course for the entire mall. We had passed through last fall on a people-watching expedition but it had left us completely exhausted after about 20 minutes. Our Japanese fashion tolerance must be better now. Even so, we only managed two of the six floors before we had to leave.
Closer to home, there's a department store called SATY. It can be found next to Tobata Station, the nearest train station to our apartment. It's about 10 minutes by bicycle or bus, depending on the traffic. SATY, like most of the department stores I've been to here, is truly a department store. There are the various areas of the store with specific types of products: furniture, clothing, stationery, housewares and so on. But there are also a number of quasi-independent boutiques within the store. The Comme Ça Store, mentioned in a previous entry, is one. There are a host of others. And while the main doors to SATY are open from 10am until 11pm, some of the boutiques close earlier. But since they don't have their own doors, the staff simply pull floor-to-ceiling net curtains around their entire display area. I've found that it's important to know the hours of the specific place you want to shop within a department store. Because even if the main store is open, your destination might be closed.
These photos are from one of the youth fashion boutiques in SATY.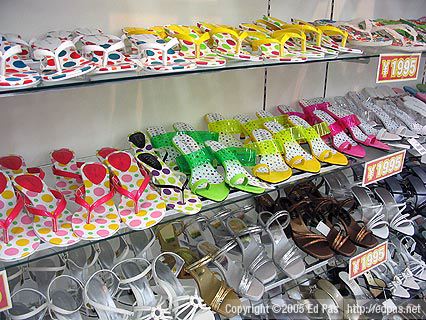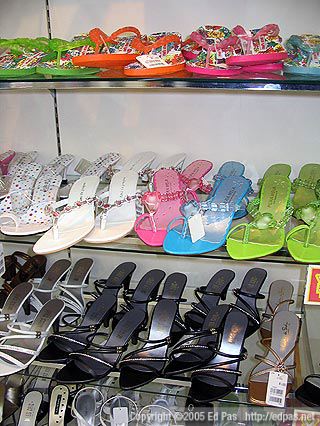 Here are a couple of detail shots. They may look like simple beach flip flops, but they aren't. Unless someone changed the specifications while I was looking. These "elevator" flip flops have 2 inch spike heels. And yes, those price cards in the photos above are correct. Every pair of these SATY shoes is ¥1995—about 25 Canadian dollars.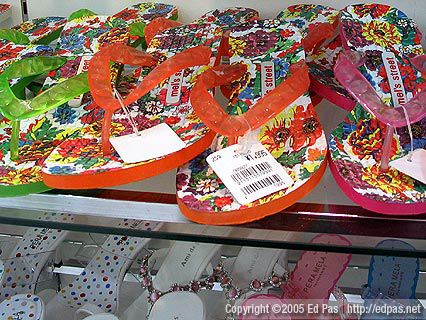 It'll take another entry to describe women attempting walk while wearing this stuff but perhaps this little haiku will give you an idea.
chaussures et chaussures
mes orteils et mes pieds ga
sugoku itai*
Stay tuned.
=====
*ga sugoku itai can be translated as "really hurt."