Hair salons are really common here. I don't know if it's because of the population density or because schools have rules about hair length. Perhaps it has something to do with the fact that everyone has the exact same hair—thick, straight and black—and wants to do something with it to make themselves look a little different.
At my school, students are not allowed to use any hair products. There are frequent checks where the teachers run their fingers through each student's hair to ensure adherence to the ban on styling products. Anyone in violation of edict on crinal purity is scolded, then forced to wash out the offending matter. Depending on the mood of the teacher who catches them, the scolding ranges in severity from a few moments of stern talking, to red-faced yelling for twenty minutes.
Back to the hair salons. Within a five block radius of our apartment there are probably about ten salons. Some call themselves salon, others are hair make and yet others are bar ber. Yes, that's barber with a space separating the syllables. It still looks strange to my eyes. Many of these establishments have barber poles. Some have more than one. And the price list is almost always a "menu."
Just past our closest grocery store is a salon called "Hair Selection Groovy." It's a very stylish establishment with an art-deco feel. It looks like the owner really thought about how the logo typeface works with the building façade. And I mean that sincerely. The front window is split up into six display cases with eclectic groups of figurines. There's a trio of witches in one. An assortment of mecha (robot armor suits) in another. A Christmas scene in another. It's quite charming.
But in the walkway between the salon and its neighbour is something slightly sinister: a collection of mannequin heads with their hair in various states of coiffure. Either these must be practice models or else one of the stylists is moonlighting as an installation artist and using her day job to collect materials for her current obsession. Either that or she's a subcontractor to the Tyrell Corporation.
Here's another view, from another day. For those of you in Saskatchewan, I think it's a coincidence that there's a folder sandwiched between the shelf and one of the heads that says "Regina."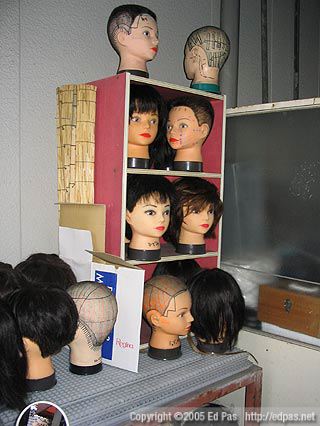 This photo is from the first of our three days of snow last winter. There were many snowfolk like this. But few of them were decorated with actual human hair. If you look closely, you might be able to see the witches in the bottom-right window.