Since January I've been dropping hints and/or telling people that Saskatoon's Darrell Bell Gallery had agreed to represent me. But I hadn't wanted to make an official announcement until there was something to show for it. Now, after what seems like months of preparation, my work is finally on display.
I'm part of a group show of gallery artists, and am really pleased with the the way the pieces look, both in terms of how they look as individual pieces, and how they look on the gallery walls. The gallery has seven pieces from the series of forty-eight images in Encounters. Here's a photo of 4 pieces as they are hung in the gallery: Clockwise from top left, they are are Encounters: 22, Encounters: 14, Encounters: 25, Encounters: 45.
Here's another view, which should give an idea of the size of the pieces. The piece on the floor is Encounters: 30.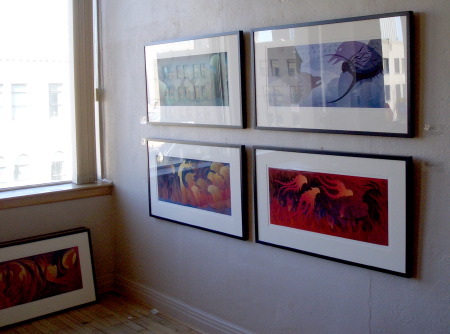 My apologies for not showing more of the surrounding gallery, but I was trying to avoid including the work of other artists in the shots.
If you're in or near Saskatoon, please stop in at the gallery to see the pieces. The gallery is located on the third floor of the Avenue Building on the corner of 3rd Avenue South and 21st Street East in downtown Saskatoon. That puts it at the same intersection as Birks, the Senator Hotel, and the Saskatoon Board of Education (formerly the Army & Navy department store). Here's a google map. Hours are noon-5pm Thursday through Saturday. If these times don't work for you, you can call the gallery to make an appointment.
If you're nowhere near Saskatoon, the gallery will be happy to send pieces to you.
Here's the full contact info:
Darrell Bell Gallery
317 220 3rd Avenue South
Saskatoon, SK S7K 1M1, Canada [Map]
(306) 955-5701
www.darellbellgallery.com
Hours: 12-5pm Thursday-Saturday, or by appointment
Please spread the word that my work is available for purchase. Fabulous as these pieces look on the gallery walls, I think they'd look even better in someone's home or office. They're only $580.00 for each framed print.
I'll be posting later this week about the edition sizes and some technical information about the pieces.