Today we revisit the photos I took at the Comme Ça Store in Riverwalk Kitakyushu a few days before Christmas 2003. I was rendered completely speechless at the time, but I've since recovered. Even so, before reading further you may want to put down any food and drink you might be consuming.
I'm not making any promises, but don't say I didn't warn you, either.
What do you think of when you think of Christmas? For most Japanese people, it's romance. Christmas Eve is one of the most important dating nights of the year. And here we have a young couple. Looking dreamily into each other's eyes? Dancing perhaps? Negotiating the number of children they'll have should they ever marry? Ignoring their pets while they dance to a little fusion serenade? Who knows?
Christmas is also a time for snowmen and presents.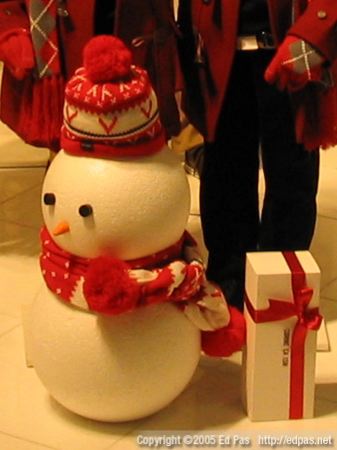 And of course, children who've forgotten their mittens. Though the boy's shorts and the girl's skirt imply a mild climate. I wonder why they'd need such heavy hats, scarves, and the coats with the faux-fur trim? And the shin-warmers. Perhaps they simply didn't want to wear wigs.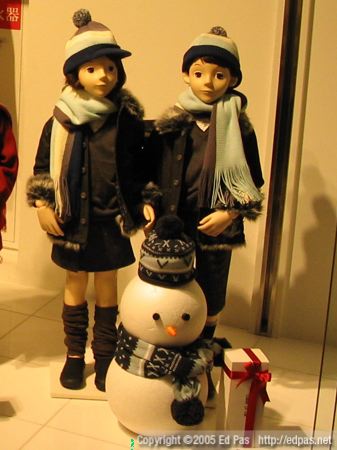 Next to them we have a pair of children who have forgone head wear lest it ruin their hairdos. Unless they have something on underneath the hair.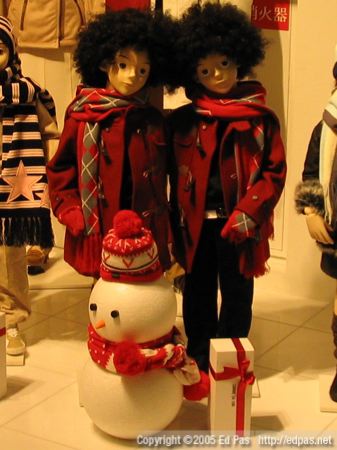 Who, pray tell, allowed these children to go out in public like this? Their grandparents, of course. I'd always wondered what the Man From Glad did in his spare time. Looks like he's getting ready to become one of Dr. Evil's henchmen. Who is the Man From Glad? A Canadian advertising icon. I couldn't find any photos, nor does Wikipedia have an entry about him yet so you'll just have to take my word for it.
And here's the whole crew of happy shoppers. Six grandkids seems about right. Though it's amazing that they managed to make them all approximately the same size. Are those Pris, Leon, Zhora, and Roy with their cryogenic friends 3-Jane, 8-Jean? If so, it's no wonder they're not worried about exposed skin.
But I digress. I remember having promised an encore performance—post transmogrification—of the bulldog mannequins so here they are. The only item they've each left off from the Disney-esque wardrobe is a phosphourescent red nose.
Nearby we have a goth-folk caroling quartet, with an afro-aryan children's choir.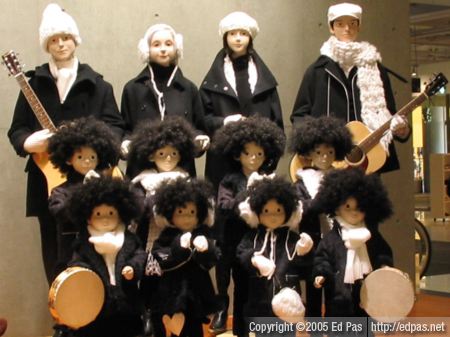 A detail of the little tambourine boy.
We'll finish with the whole view. Remember the couple from the first picture? I love the way the woman has coordinated her toque—for non-Canadians, that's the thing on her head—with the heels and leg warmers. I'm a little surprised she doesn't have a pleated skirt. Meanwhile, left to their own devices, the couple's pair of English bulldogs have taught themselves a simple transforming charm and are keeping themselves entertained while trying to ignore the musical stylings of the rastalbinos.