Judging from the number of photos I've taken of them, I must have some kind of obsession with the mannequins at the Comme Ça Store. Today I have photos from the Canal City mall location in Fukuoka.
And before I forget, happy Canada Day! The rest of this post has nothing to do with Canada's birthday, but you're welcome to read on anyway.
Today's presentation consists of a trio of images of winter-clad mannequins in a range of ages. The first photo is of the entire window display, complete with the sale posters. It's a bit hard to make out, but the poster is advertising the Winter 05 Sale, with prices marked 70-30% off. Yes, in Japan they note sale ranges from the highest amount down to the lowest, the opposite of what I'm used to. Why is everything on sale? I took the photo on January 23, 2005, so they're probably trying to make room for the spring line.
This appears to be an example of four perfect nuclear families. And none of that non-traditional stuff that they do in Kitakyushu. Father? Check. Male? Check. Mother? Check. Female? Check. Kids? Two.
Some 19th-century politician is said to have uttered, "There are three kinds of lies: lies, damned lies, and statistics." Well, I wouldn't call the items in the list that follows to be lies, but since I made them up, I would call them total fabrications. So, here are some made-up-by-me statistics about each family:
They own 2 cars, 4.1 bicycles, 0 bicycle helmets, 5.14 TVs of which one is in each car
They have 1 dog and/or 1 cat, and in the summer they probably have assorted clear plastic boxes containing wild-caught fish, bugs, and crayfish. If they don't have a dog or a cat, they might have a rabbit. Regardless, any quadruped member of the household has, without a doubt, at least 15 changes of clothes.
The man works 14-hour days—not including lunch—6 days a week, and spends 77 hours out drinking with his co-workers every month. He sleeps an average of 6 hours per day, a quarter of that at his desk at work. Of his five identical black suits—which he ordered by phone—he only ever wears one, and it has permanent wrinkles at all the joints. He will take three days of vacation per year, but only because he is too deathly ill to haul his carcass to the office.
The woman owns enough battle aprons that she can wear a different one every day for more than a week. She has a layer of foundation approximately 972 micrometers thick over her face and neck, and is only capable of communicating in one the following ways: whispering sideways with her hand over her mouth, shrieking at her girl child, doting on her boy child, or emitting high-pitched nasal vocalizations when interacting with men or talking on the phone. She wears a padded bra, three types of girdle or other body-shaping restraint, and owns more designer goods than most Hollywood starlets. At 151cm tall (just under five feet) and 39kg (86 pounds), she has just started a weight-loss program.
Enough lies statistics already. Here's a close-up of some of the kids. Contrary to first impressions, the one on the far-right is not wearing a hat from one of the Soviet republics. The letters are the abbreviation for "Comme Ça Ism," one of the great thought experiments of our time.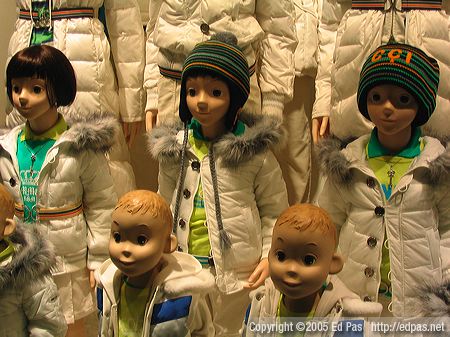 And as befits the standard female winter wardrobe, the girl on the left has bare legs from just above the knee, down to her socks. This is, in fact, an exceptionally high coverage outfit. But that's another post.
Where am I going with all this? Well, tomorrow it's Christmas time at Comme Ça. Or at least was when I took the pictures that I'm going to post. That's right, more photos from the day of the martini babies. Stay tuned.