Yatsurugi Shrine is in Miyata Town (宮田町), east of Kitakyushu. I ended up there completely by accident, on the tail end of a bike trip on May 5, 2005. I didn't have a very good map with me, and had followed a couple of signs pointing towards a hiking area, and then got distracted by a series of torii. What follows are some photos in and around the shrine grounds. There are a couple of standard photos of the shrine, and then a lot of pictures of the pink flowers and greenery that took me completely by surprise.
This carved and painted stone was to the right of the main entrance torii. They're old-style characters which read "Yatsuragi Jinja," or Eight Swords Shrine.
This is the view from the main torii, looking up towards the shrine. There are a lot of stairs, but less than at some shrines I've visited.
I can't remember what these creatures are called, or what they symbolize—and I'm too lazy pressed for time to look it up right now, but there were quite a few pairs of them. Some were very weathered, which made sense to me upon my departure, when I saw a sign announcing that the shrine was built in the 1500s.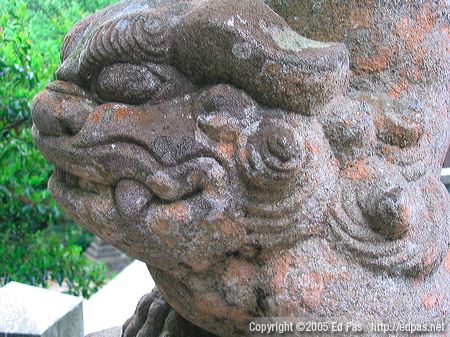 The most memorable part of the shrine was the part that I call the "flower area." I found these posts at the end of a path that goes back to the right side of the shrine. I'm not sure if that makes sense, so I'll add that the shrine itself was at the other end of this path, behind where I stood to take this picture.
I have no idea what kind of bushes these are, but there were a lot of them. They were planted in a sort of parabola shape, around an asymmetrical clearing. This view is looking down from about half-way up the hill.
Here's a view looking up from the clearing.
Another view from above, this time from further up the hill.
Looking down again, this time from the very top centre.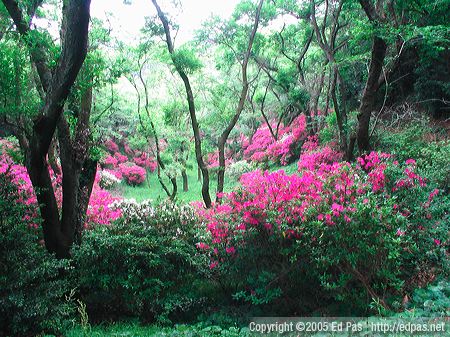 This shot is looking across the clump of bushes that are in the bottom centre of the above photo.
Looking down and across from the other side. Just outside of the frame in the upper left are the two stone pillars.
Another view down and across, from slightly further down the hill.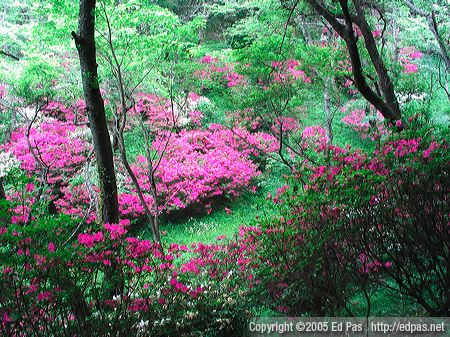 Yet another view across, this time from near the bottom.
And a final view, this time from the bottom, looking up. The road sort of merges with the foliage part way up, and then the bushes become impassable.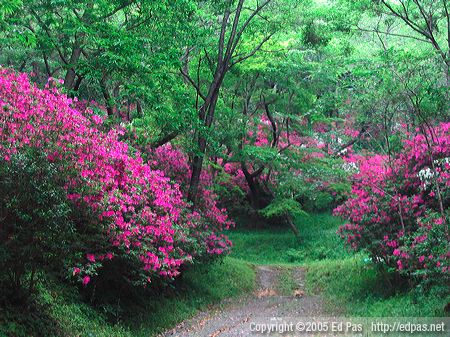 The strangest thing about this location wasn't the fact that there was an ancient shrine here. It was that the almost complete silence was broken every twenty minutes or so by the roar of the shinkansen—the bullet train—which sounded a bit like a jet taking off.