Today I spent the day at Jarrod's school, watching their undokai, a kind of field day or sports festival. It was hot and dusty, with a lot of sun and wind. It was also a lot of fun to watch, filled as it was with an assortment of unusual games and races.
But that's a topic for a multi-part post that I don't have time or brain power to write tonight. Instead, I'll be presenting something completely unrelated. As the title says, three houses and a passage.
First off is a distinctive house near Kurosaki station in Kitakyushu. This yellow building sits on a hill overlooking the station. The hill is nicely wooded, with a small shrine halfway up, and a small overgrown park at the top. I see this house almost every time I take the train to Fukuoka City, and like the way it stands out from the others.
One thing you don't see is the sprawling Mitsubishi Chemical factory on the other side of the hill, with its 8- or 9-storey red-and-white-striped smoke stacks. The other thing you don't see–because I took the photo in full sun—is the way the house jumps out from its surroundings in more subdued light.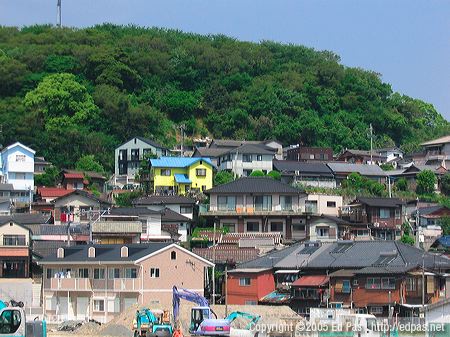 Next is a sign in front of a cafe near our apartment. I'm not sure what the proprietors intended, what with Japan's harsh drug laws. Perhaps the sign was inspired by one seen in Amsterdam.
Our third stop is near Tobata Station. I've never been inside, not having been in need of any "spankie," whatever that is. Judging by the blue-and-red sign in the window—it says that Tuesday is ladies' night, with 100-yen cocktails during happy hour—I suspect that this is a sort of drinking establishment.
And finally, the following passage has very little to do with architecture. It's a brand of toilet paper. Here's a photo of the entire package. Yes, the paper itself is green. Hospital green. And not the softest I've used, either. There was also a pink option.
A close-up of the package.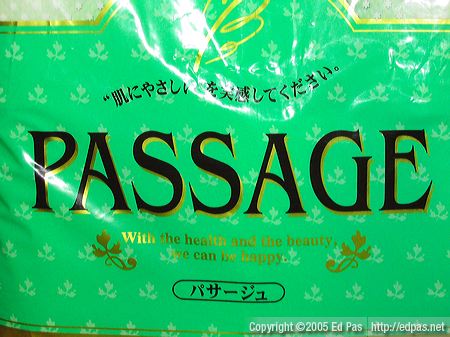 I'm not sure what the Japanese says, but the English says "With the health and the beauty, we can be happy." I can't argue with that.