Someone asked me to post more pictures of fish from or trip to the Shimonoseki Aquarium. So here they are.
This post is a continuation of my entry from May 16, 2004, which has a few more pictures. You might want to read it first, if you haven't already done so..
Here's another look at the school of fish as viewed from the glass tunnel through the aquarium: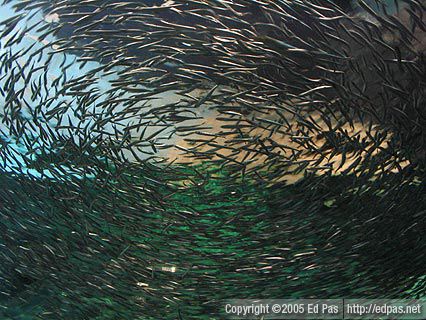 Another view of the same fish tank. This is from a completely different room. The tank has 4 or 5 viewing rooms. I think it's split up like this because of the sheer number of fish. Plus it seems that certain of the fish keep to their own territories. You can see the school of smaller fish from the above photo in the background of this one.
Here's a detail of one fish from the big tank. I had to pan the camera as it swam past. Even so, it was going almost too fast for me to get a good shot. You can get an idea of its motion from the blurry fish behind it.
As I mentioned in my previous post about the aquarium, they have an extensive display of different kinds of fugu (pufferfish), which is the local delicacy. Lia pointed out that a lot of the visitors would see a particular variety of fish and comment on how delicious it was. I didn't notice them doing this, but it seems to be a part of Japanese psyche to wonder about the culinary potential of all living things. Another example of this was when Lia was describing to some of her students what a moose looks like. Their first question was "how do they taste?"
This tank was about 3m (10 feet) tall and at least as wide but there were only about 15 of these pufferfish in it. And many were resting in the sand. It was quite entertaining to watch them dig themselves in.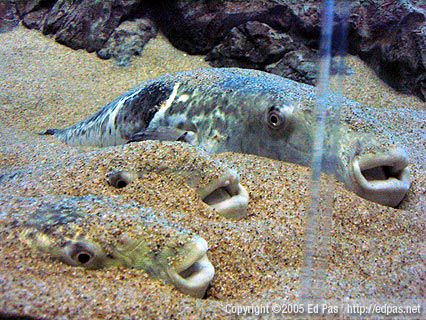 A striped yellow puffer. I'm not sure of its real name.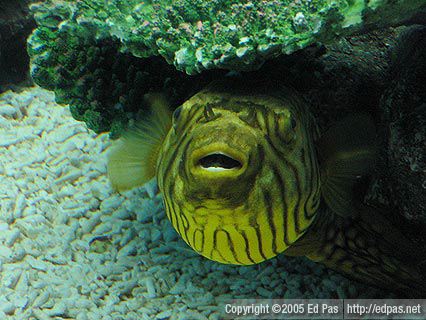 I was calling this one "The Supreme Noser" (referring to Q-Bert) until one of the teachers watching over my shoulder as I edited it down for web display noticed it and pointed out that it is called "Hako fugu" or box puffer (hako=box, fugu=pufferfish). What a weird looking fish! I think I prefer the name I gave it.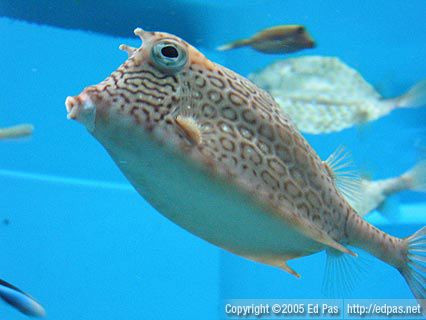 A few more puffers:
Here's a squid. It was about a foot (30cm) long. There were three of them in a huge tank. Perhaps they need that much space but maybe one of the Aquarium's executives decided that they needed to have ika-sashimi for lunch that day.
Here's a jellyfish. It was nearly impossible to get a clear shot of these because of the light, but I like the ghostly effect. This one's head is probably the size of a tennis ball. The background images are the reflection of the display on the opposite wall.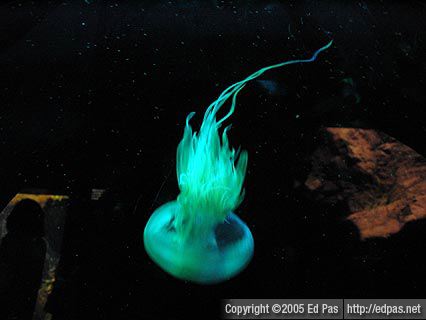 This is one of the big claims-to-fame of the Shimonoseki Aquarium: a complete skeleton of a blue whale, the world's largest mammal. This foyer is right near the building's exit, and the skeleton has a couple of walkways built around it. On the left is a 4-story tall curving wall made of windows, which you can see a little of in the background. On the right, the wall curves around the main display area which is divided into 4 floors. Unfortunately I didn't take any photos of the full area.