I'm in Calgary this week, touring the city's art galleries as part of two projects. One is the ongoing project of reacquainting myself with contemporary Canadian art. The second—and probably more important—project is to get a sense of which galleries are going to be a good fit for my work, prior to submitting my portfolio.
These projects come on the heels of various conversations I've had with artists and dealers about my quest for commercial representation. The results of my reconnaissance are nowhere near conclusive yet, considering the fact that most of the places I visited appear to deal primarily in tried-and-true traditional media. That is, the work I saw on display used media such as painting, printmaking, drawing, and installation—not to mention sculpture—all of which rarely use digital methods as the primary means of creating a physical object. Still, there are possibilities.
When I made plans for this trip, I hadn't realized that I'd be here for a bunch of art openings. I wasn't terribly excited by this prospect as I'm here primarily to look at work and galleries, and want to save networking for later. This might be a tactical mistake, but I really didn't feel like schmoozing. Luckily I managed to get to most venues before the crowds of people arrived.
In terms of tradition, even Janet Cardiff's audio installation at the Alberta College of Art and Design could be classified as "traditional" if one only looks at the physical properties of the piece. Cardiff's piece consists of a series of audio speakers, each of which projects a single voice singing its part of the 40-voice motet Spem in Alium by the 16-century English composer Thomas Tallis. There would be little point in posting a photo of this installation as it is an audio work, and posting the audio would be similarly futile given the fact that the 40-channel recording is intended to provide for a richer listening experience than can be achieved either through the traditional concert or stereo sound recording models.
I really enjoyed an exhibition of sculptures at Skew Gallery by Blake Senini titled After Lawren. I'd never heard of Senini before walking into the gallery and know very little about him aside from the fact that he teaches sculpture at one of the post-secondary art schools in town, either ACAD or the University of Calgary. Despite the best intentions of the gallery attendant, my sieve-like memory has already lost the information. [Update 2007-06-26: He teaches at ACAD.] In any case, to me his pieces have a paradoxical combination of lightness and great mass. They seem to be hovering or floating but at the same time appear to be extremely heavy. I also had a lovely conversation with the gallery attendant who was kind enough not to throw me out of the gallery even after hearing my selfish motives for being there.
Here's a photo of "If Light Were Liquid" 2006 (72 x 94 x 18 inches – laminated wood, silver leaf, stain, and resin) which I've lifted without permission from the Skew Gallery web site. In the gallery the piece appears to be hovering a bit less than 1/2 an inch above the floor. The two cloudlike forms in the background are separate pieces from the series "Middle of Nowhere," which made me laugh because they reminded me of what it often feels like to be in Saskatoon.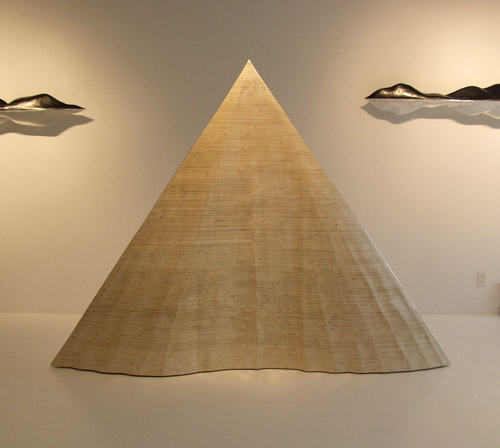 Ron Moppet's exhibition of recent paintings—plus a couple of sculptures—Coloured Pictures at Trépanier Baer didn't do a whole lot for me, but I realized in looking at them that even though they didn't speak to me they were still strong work.
Here's one of the smaller paintings from the show. It's of unspecified dimensions, but I'd guess from memory that it's about 18×24 inches. It reminded me of some of the visual strategies that Canadian concrete poets were using in the 1970s, which recalled the Dadaists from the early part of the 20th century.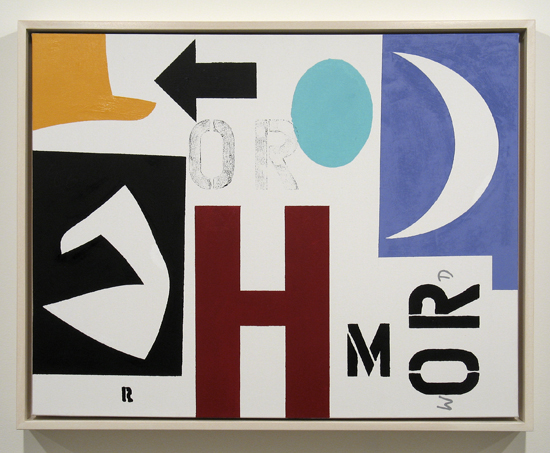 Also, during my visit to Trépanier Baer Gallery I discovered the gallery represents Victoria-based artist Luanne Martineau. Luanne and I were in the same high school graduating class. I have a vague recollection of knowing that she became an artist.
The last artist I have energy to write about is Montreal artist Jenny Lin, who had four drawings in Hit or Miss: An Exhibition of Contemporary Drawing at Triangle Gallery. Lin's drawings were quirky and fun, with a mild sinister edge. They made me smile in the same way that those of Winnipeg-born artist Marcel Dzama do, only Lin's drawings use a more diverse range of colours. The rest of the show was, as the title implies, hit or miss. Though there were a number of good pieces, nothing else in the show grabbed my attention or captured my imagination the same way Lin's work did.
Here's an image of Lin's "Mike B" from the Triangle Gallery web page, which has a thumbnail gallery of the entire show.
Here's one of Marcel Dzama's drawings, taken from Sies + Höke Galerie (Düsseldorf):