Just a quickie tonight, as I spent the day touring around Kitakyushu—on foot, train, and bus—with sisters-in-law in tow.
Japan Tobacco is the third largest cigarette company in the world. The Japanese Ministry of Finance is a major shareholder, owning two thirds of the company. Apparently there are many Japanese men who believe that smoking is their patriotic duty—half the men here smoke—and tobacco profits help shore up government budgets that have been gutted by post-bubble recessions and economic stagnation.
How to unite this support for the government with Japan's postwar anti-military constitution and wishes for a return to prosperity? Pacifism and wishful thinking through cigarettes, of course!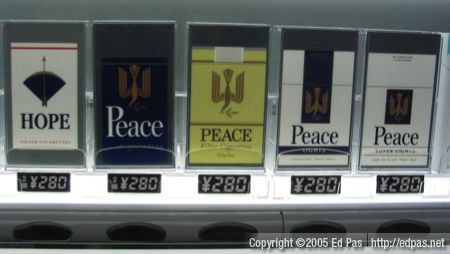 My conclusion from this photo—a detail of a cigarette vending machine somewhere in Tobata—is that peace is a much more complex idea than hope, and that you have to diversify your offerings if you want people to buy into peace, even if the price is the same.
And don't forget the hard-hitting wisdom of Japan's cigarette package labels:
There's a risk of damage to your health; so let's be careful not to smoke too much.
There's more info about the Japanese government's attitude toward smoking in this TIME Asia article from 2000. It's a bit out of date, but attitudes don't seem to have changed a whole lot since then.